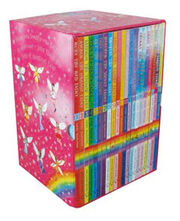 The Rainbow Magic books themselves are written by a various amount of authors, which all write under the collective pseudonym '
Daisy Meadows'.
Known Authors
Edit
Here is a list of some of the known authors who have written under the name Daisy Meadows for the Rainbow Magic series.
Narinder Dhami
Sue bentley
Sue Mongredien
Linda Chapman
Not many people know that 'Daisy Meadows' is more than one person.
The true name of the author is inside each book within the Special thanks to... section.
Narinder Dhami wrote the first two books.
Ad blocker interference detected!
Wikia is a free-to-use site that makes money from advertising. We have a modified experience for viewers using ad blockers

Wikia is not accessible if you've made further modifications. Remove the custom ad blocker rule(s) and the page will load as expected.