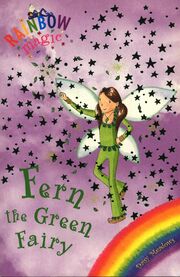 Gentle Fern is a rainbow fairy, the fairy of the colour Green. She was the fourth fairy to meet Rachel and Kirsty on Rainspell Island, 'Fern the Green fairy' is also the name of the fourth book in the Rainbow Magic series.
Appearance
Edit
In the books, Fern has brown hair held into two bunches. She has caucasian coloured skin and wears green clothes. She wears a green jumper and long green trousers which have leaf patterns going along the hem lines of the neck, waist and feet. She wears a green leaf necklace, a pair of green leaf earrings and brown bracelets on each arm. Her shoes are brown and are curled at the toe.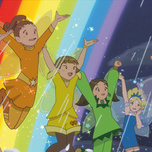 In the film 'Return to Rainspell Island' Fern looks almost exact to her book self, but in an anime style art and with paler skin.
Personality
Edit
In the books, Fern is very gentle and kind, she shows this by having almost an affection for all the animals that help her, Kirsy and Rachel get back to the pot-at-the-end-of-the-rainbow. She obviously loves nature, and everything that is a part of it.
In the film, Fern didn't have much personality put into her character, but it did show her being very kind and gentle as she is in the books, she also had a slight Irish accent whih suited her character very well.
Fern's best friend is a grey squirrel named Fluffy.
Fern is one of 12 Fairies in the series to wear a shade of green
Fern's fairy dust has small green leaves in it.
Her name is a type of plant
Ad blocker interference detected!
Wikia is a free-to-use site that makes money from advertising. We have a modified experience for viewers using ad blockers

Wikia is not accessible if you've made further modifications. Remove the custom ad blocker rule(s) and the page will load as expected.