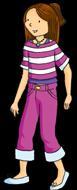 12 year old Kirsty Tate seems like an average girl, but she has a secret! She an her friend Rachel are friends with the fairies! She lives in Wetherbury with her parents and cat Pearl. She loves fairies and can't stop talking about them!
Appearance
Edit
In the books Kirsty is said to have dark hair and light coloured skin. She is told by the Angels' stylist she'd look best in red, but her official art has her mostly in purple. Notice also her hair colour in the official art is a light brown, not a dark colour as it is in the books and film.
In the film Kirsty has dark hair with a blue tone to it, and it is worn down.  
Personality
Edit
Kirsty is said to be kind, clever, friendly, and brave. She seems very dreamy, constantly thinking and talking about magic or fairies. She enjoys drawing, dancing, and singing, and would like to be a singer, ballerina or historian. She can think of a lot of ideas almost instantly.
In the film 'Return to Rainspell Island' Kirsty seems even more dreamy than she is in the book, seeming as if she can speak about nothing else but the fairies. This irks Rachel as she is embarrassed for her classmates to find out she still believes in fairies, whilst Kirsty has no care in the world what people think of her.  
"If you asked me the world would be a much better place if everyone believed in fairies" - Kirsty in Rainbow magic: Return to Rainspell Island
Ad blocker interference detected!
Wikia is a free-to-use site that makes money from advertising. We have a modified experience for viewers using ad blockers

Wikia is not accessible if you've made further modifications. Remove the custom ad blocker rule(s) and the page will load as expected.